Woodcarvers Retreat in New England
Woodcarving instruction, room and board at an affordable price. Click on the Year 2004 Retreat Program Information to get an idea of what it is all about, where it is held and how to register.
---

CarversOnThe.Net
-
Networking for Carvers & Collectors Around the World!
---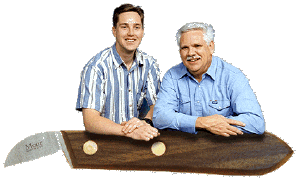 Chipping Away Incorporated
- Chipping Away is the largest chip carving organization in the world dedicated to the promotion of chip carving through the offering of chip carving classes, books and patterns as well as a complete line of chip carving tools including the quality Moor tools.
---

Colwood
- Woodburning tool, many magazines and books on the subject along with articles on the art of woodburning.
---
CraftDirectory.org is one of the largest directories for arts and craft enthusiasts on the Internet. We have over 24,000 links in more than 900 categories.
---
Georgetowne Arts
Education & Supply
http://georgetownearts.com/ -
Wildlife carver and sculptor George Kruth's Gallery includes ducks, birds, fish and mammals which are among the finest available. Georgetowne Arts Gallery presents an in-depth view of his Original Works of Art in four different galleries.. The Duck Gallery... The Fish Gallery & The Wildlife Art Gallery and his NEWEST GALLERY... The Songbird Gallery Click on the Gallery Link above to view his beautiful work.
---

Harmony Cedar - sellers of fine handcrafted dining tables, cedar chests and unique gifts. Tables to chests and other interesting gift items. All made by hand from the finest wood available in the standard Amish Tradition of quality.
---
Simple Life Creations
Custom wood carvings wood art by Simple Life Creations - Simple Life Creations we specialize in fish & wildlife Handcrafted wood carvings and
wood art.
---